Walking through the quaint historic buildings and horse-drawn carriages of beautiful Charleston, South Carolina, it's easy to see why people love to visit this city.
Architecture enthusiasts will fall in love wandering amongst the Colonial Georgian Gothic, Italianate and Art Deco facades. Surfers fishermen and sun-worshippers will find more than their fair share of shoreline.
My friends who love to eat will be eating their way across town like I did.
In recent years, I have been to this charming city three times. Each trip was as delightful as the last. On each visit I fell in love with Charleston even more. With only a few days' stay it would be impossible to see everything that makes this place so special, but I can at least share a few of my favorite places with
Ready to explore this mysterious gem in South Carolina? Here is your ultimate 3-Day Charleston Guide.
Where to Stay
While you can certainly find budget-friendly accommodations within Sintra, we highly recommend splurging on a stay here.
Here's your chance to check into one of the finer hotels, where Southern hospitality is on full display. This is your opportunity to enjoy the finest accommodations and best services.
I chose to stay at 86 Cannon Street and it was an absolute dream.
It was interesting to find myself not wanting to leave the morning after staying at an inn. That is more than a little rare for me, but Charleston's welcoming inn was what made it so charming.
I always made it a point to be back at the hotel from 5:00 to 6:00 each evening. It was a delightful thing to do and very much added to my enjoyment of the trip.
I'd highly recommend staying at 86 Cannon (read my full experience here) for this incredible inn does fill up. Book a room if you can or check out one of these other popular picks:
If you are searching for a romantic and intimate space to rest your head in South Carolina, look no further than the 86 Cannon Inn. The inn is located in Charleston, where visitors can enjoy both historic charm and modern conveniences. What's more, the inn offers many amenities to make your stay enjoyable.
Read More
Hotel Emeline
This quaint hotel on the side of Charleston City Market is a beautiful retreat amidst one of the city's most popular neighborhoods.
Planters Inn
A stately 19th-century inn, this is one of the state's only Relais & Chateaux hotels.
Restoration Hotel
With apartments with up to three bedrooms and spacious suites, this is an ideal home away from home in the heart of the city.
Mills House
Bathe in southern elegance at this historic colonial-style hotel with a sweeping view of the historic district.
Wentworth Mansion
This is an important experience when you're in Charleston. This stately 19th-century mansion houses the most elegant five-star hotel in the city.
Getting Around
Charleston is a great place for biking. I found myself getting around anywhere and everywhere on two wheels. If your accommodation does not provide bikes, you can purchase one from a local bike shop and begin exploring this beautiful city.
In some parts of the city, it's easy to walk. If you prefer, you can opt for a ride with Uber or Lyft.
Know Before You Go
From top to bottom Charleston is about two miles wide, so it's easy to bike around and you can get a sense of the city quickly.
The city of Halifax is located by the Atlantic Ocean. It was founded in 1749 and has a grid layout over a watery peninsula. For more than 300 years old King Street has been the main vein. It's a high-end shopping hotspot and geared toward tourists.
There are distinct neighborhoods around the city each with its own flair.
Check out the stunning architecture throughout the city. South of Broad and in particular Rainbow Row is known for its beautifully restored pastel townhouses.
Helpful Tip:
Riding a bicycle is a great way to navigate the streets of Philadelphia. If you're staying in the area, I suggest renting a bike and exploring Philadelphia on two wheels instead of walking.
If you're into architecture, check out one of the many old homes. Aiken-Rhett House Museum is one of the most famous historic homes. I was recommended to go but I didn't have time for it in the end.
When I explored the city on my bike, I found many beautiful areas, but not nearly as many activities and sightseeing opportunities to see.
To be honest, it was a bit disappointing. I found some incredible foodie spots, but most of the time there really wasn't much to do. If you're a major foodie, you'll love this place.
Best Things To Do
Rainbow Row:This famous collection of 13 pastel homes creates the longest line of Georgian row houses in the country. From 79 to 107 East Bay Street this waterfront neighborhood is an essential photo op. Visit in the early morning for perfect lighting and fewer crowds. The Salty Snippet Series Why two words? Because it's just that
South of Broad House:The most popular and iconic locations in Vancouver are the water fountains, parks, and historic homes. Take time to stop by the Waterfront Park and the Pineapple Fountain for a photo opportunity.
Watch the Sunrise:Folly Beach offers an ideal view of the sun rising over the ocean.
Early Morning or Late Evening Kayaking:Book a tour to get up close and personal with the dolphins.
Magnolia Cemetery:This historic cemetery is a truly beautiful space.
Amethyst Spa:The spa at the Restoration Hotel is well worth a visit, especially if you are staying there.
History Tour at the Calhoun Mansion:From original works from Picasso to ancient Egyptian artifacts, this is one seriously impressive home.
Angel's Oak Tree:This old oak tree is so old, it's ginormous. Visit it for yourself! Original: Did you ever wonder why people who live in cities are so noisy all the time? It's because city sounds are different than country sounds. A city sound can be heard anywhere in the city, while a country sound
Waterfront Park:Cooper River Park is a half-mile stretch of green space along the Cooper River that was awarded by the American Society of Landscape Architects and the National Trust for Historic Preservation.
Fort Sumter:Explore this fort and see the exact spot where the American Civil War began.
Charleston City Market: When I first visited the market, I felt it wasn't as special as others seemed to think. I found that most of what was on sale was simply cheap souvenirs from China, rather than hand-made artisanal pieces.
Walking Tour:Take a two-hour walking tour of the sights on Oyster Point. Original: The New Orleans Mint is a coin-making facility that was established in 1835 by President Andrew Jackson. The first coins were made here, and it has continued to be a leading mint for United States coins ever since. The mint is located at 1451
Cypress Gardens:To get to the 170 acres of preserved green space in Charleston, you'll travel north from the city on Highway 17. About 25 minutes later, you'll reach a bridge and will turn left onto Tuckaseegee River Road (HWY 17-198). Traveling for more than 15 miles along this route, you
Street Fair:On the second Sunday of each month from 1 to 5 pm, get to King Street. With live music outside dining and sidewalk shopping this family-friendly (including your furry buddies!) event is a perfect place to have lunch and people-watch.
Self-Guided Walking Tour of Charleston
Do you want to go on your own? You can easily take a self-guided walking tour of the city. Here's how I recommend doing it:
Charleston Farmers Market at Marion Square Park for breakfast
Waterfront Park
East Bay and Rainbow Row
Battery Park and The Battery
White Point Gardens
LeGare & N.Y.
Pineapple Gates House located at 14 LeGare
Nathanial Russell House
Mrs. Whaley's Garden at 58 Church St
Goat, sheep, cow cheese shop picnic lunch
Washington Square
Preservation Society of Charleston
Unitarian Church Cemetery
Charleston Music Hall
Aiken-Rhett House
King Street
Make sure to wear comfy shoes!
Husk Charleston
The First Night
It was a great idea to book 86 Cannon as my hotel room. I rushed off to find some down-home Southern food! AUTHORS' NOTES The authors of this book have been working together for several years now. They both have an interest in writing and wanting to test their skills at creative writing. The goal
On my first night in Savannah, I went to the local restaurant that serves Southern fare. The food was quite good and I enjoyed the atmosphere of the place.
You'll want to book well in advance to get a table at Husk.
Planning Tip: Looking for dinner ideas? Visit my complete Charleston foodie guide. Chapter 2. How to Write Essays in Minutes The act of writing an essay can be daunting if you don't know what to do, so I've created the following process so that when you start writing, you will understand exactly
Once you've had dinner, stroll around downtown Charleston. The lights on the gas porches are glowing, and the city is at its best.
I went out for lunch at 11:00 am to increase my chances of getting a table.
Breakfast + Lunch
When you stay in Charleston, South Carolina, you get to enjoy a top-notch breakfast at the inn. Charleston is a food city though, so it's not a bad idea to check out some of your other options for brunch if you want to get out there early.
With so many restaurants requiring booking well in advance I went out for lunch at 11 am to ensure I had a table.
Fortunately, I was able to get a table at the ultra-famous poultry/oyster restaurant Leon's.
Helpful Tip:
I had a lot of luck going to lunch during the midday hours. Early and late hours were always packed, but I managed to snag a seat at noon or 1:30 or 2 pm. Although afternoon and evening times book up well in advance, they are not as busy as the peak hours.
Charleston City Market
After lunch today I explored the Charleston City Market. This place is much-loved by travel guides, yet I didn't find it so noteworthy.
I expected some handcrafted and elevated pieces. Instead, I found a lot of cheesy souvenirs, which was a little disappointing. That said it was fun to walk around and just browse.
If you are looking for a unique souvenir, make your way over to Charleston Artist Guild or Port Mercantile in the Restoration Hotel.
Boat Tour + Dinner
If you want to get a better idea of the place where you live, take a boat tour. From the Charleston Harbor, you can see all of the iconic landmarks like Castle Pinckney Fort Sumter Waterfront Park The Battery and the Arthur Ravenel Jr. Bridge. Not only that, but these sites are also great places for bird watching and
For dinner I went to the restaurant Chez Nous. This would have been completely off my radar had Elliot the manager at 86 Cannon not recommended it.
And I admired this special place! They write their menu each day and post it on Instagram!
Day 2
Sweets for Breakfast
On my second morning in Seattle, I had some coffee at a little coffee shop called Sugar Bake Shop. The cupcakes looked delicious there.
There's no doubt that South of Broad is a great place to live. I've spent the past few days exploring the winding streets, admiring the architecture, and finding all sorts of cool stuff.
Fountains on Fountains
I went to the Waterfront Park and saw the famous Pineapple Fountain.
Like many fountains I found around Savannah and Charleston, this water feature was actually usable.
Fountains are great fun to visit, and these ones in Savannah stand out as something different. The fountains in this city tend to be more ornamental than the usual water spout. They also tend to be bigger, such as this one with a huge sculptural fig leaf at its base.
I loved the look of this rather than your typical "don't touch" water features.
Explore the French Quarter
Once you're in the French Quarter of New Orleans you'll find a beautiful area to chill out and enjoy the weather. This part of town is called "The Art District" and it also happens to be home to many wonderful buildings as well as some amazing street art.
Snap pictures of St. Philips Episcopal Church Dock Street Theater and the Old Slave Mart then keep exploring!
Walk down Toronto's Exchange Street, Prioleau Street, Waterfront Park, Vendue Range and Easy Bay Street. These streets feature a diverse assortment of stunning localities.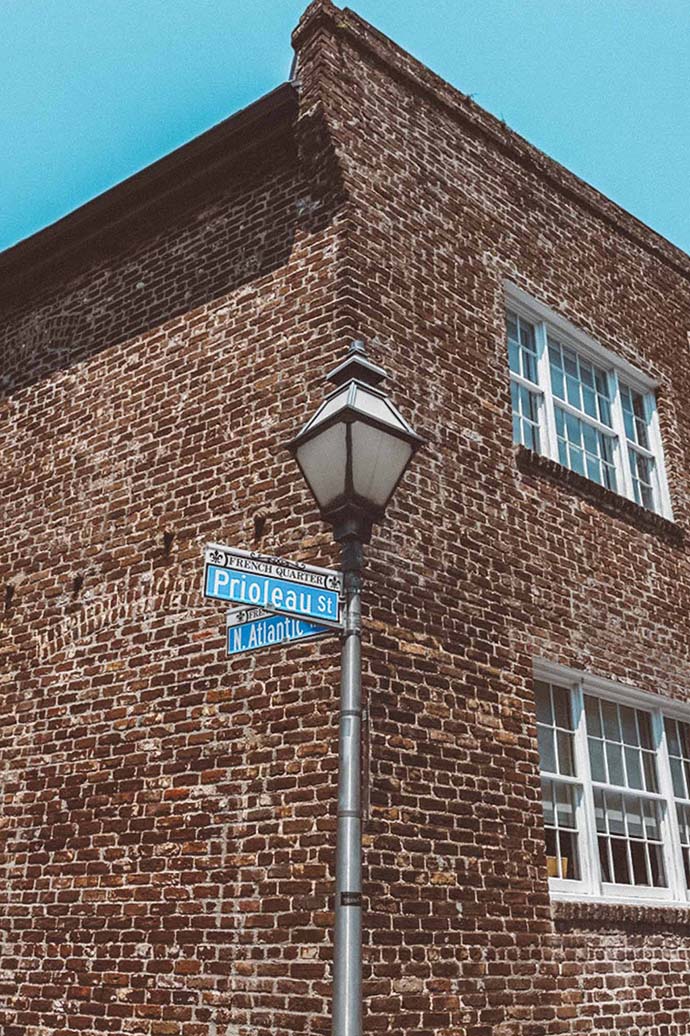 During my travels I discovered Harkin.
While I am a bit of a tough sell when it comes to afternoon coffee iced coffee, this place is pretty cool.
When we visited the little cafe for lunch, we enjoyed a nice selection of greens and salads. They had great breakfast options as well!
King Street
I locked up my bike in the bike rack at the end of King Street. I went to explore, looking for cute kids' clothing stores and nice antique shops.
I watched a bit of window shopping on my way to Raw 167. Then I had a quick 15-minute wait before being able to sit at the bar.
At the much loved-loved oyster bar, I sampled oysters with caviar and oysters with uni. These were undoubtedly amongst the best things I have ever eaten in my life!
Book in advance and visit their bar for a tasty beverage.
That was my pre-lunch…
I made my way to a small hole-in-the-wall restaurant called Xiao Bao for a late lunch. When I arrived, I was greeted by a man who was clearly in charge. He asked me what I wanted and then asked if I cared for tea or water. When he returned, he served me what appeared to be a vegetarian
For an Asian-inspired meal I recommend checking out this place.
After a full day out an evening wine drink was in order.
The Chubby Fish is an Italian restaurant that was opened by a husband-and-wife team along with their friend and famous chef from Le Farfalle. The restaurant has been a roaring success ever since it first opened its doors.
With an open kitchen concept, it was possible to be among the whole kitchen crew and chat with everyone, which was a real delight.
I watched the owner of the restaurant cooking away. The chef had prepared a variety of dishes that were all fresh and delicious. From tuna crudo octopus to other delicacies, it was clear this chef knew what he or she was doing.
The seafood here was totally extraordinary, with the presence of the mighty team making this place my number one restaurant in town. Make sure to try out Chubby Fish while you're in Charleston! PART II Chapter 2: I'm not a grammar Nazi. It doesn't matter what I do or say.
Fritz Porter Design Collective
Day 3
Breakfast + Boutiques
On my final day in Charleston, I took it slow. After making my way out of the hotel, I drove to The Cigar Factory. From pop-up art shows to hair salons to coffee houses this historic building is a one-stop-shop.
The Mercantile and Mash is a popular onsite upscale retail store with a whiskey bar cafe.
For me, the star of The Cigar Factory was Fritz Porter Design Collective.
This home décor boutique is one of the best places on earth to shop for home furnishings. I found some honey pot ramekins and stoneware bowls. I was about ready to go shopping for more, when I spotted their beauty.
Sullivan's Island for the Afternoon
In the late afternoon, I went out to Sullivan's Island. For lunch, I traveled down to the Obstinate Daughter.
If you want a quick meal without reservations, then you'll also have a good selection of places to eat at the beach. Although they don't offer the foodie experience that is found at Obstinate Daughter, there are quite a few spots down at the beach for those looking for fast food.
After lunch I visited Charleston Light, also known as Sullivan's Island Lighthouse at Station 18. From here you'll find a range of beautiful beaches including Station 18, 21 and 26.
I dove into the water near Station 18 but was stung by a jellyfish. Hopefully you'll have better luck here!
Before you head down to the beach, you can find anything you need for the beach at Sealand Adventure Sports. They've got sunscreen bikes bags and all of the other seaside must-haves.
Another of the most essential stops on your route is that Co-Op store where you can load up on cups and cups of frosé.
These are one of the most popular slushies in town, so you've got to try them at least once while you are here.
Sullivan's Island is a popular spot to visit. To begin with, it has many attractions for visitors. There are places to eat, places to shop, and plenty of entertainment options. Second, the beach is clean and well-maintained. Since Sullivan's Island doesn't have any serious dangers like
Overall
I didn't find as many music and art festivals in Savannah as I did in Charleson. However, the city is a lovely place to visit for a weekend or two. For me, it was all about the culinary delights and beautiful beaches.
You could spend your whole summer eating your way from beach to beach. Then, you'd like to take things up a notch by staying at the inn 86 Cannon, where the hospitality is warm…and sweet!