Have you ever thought, "I wish I could make a cool video for traveling?" But it seems daunting?
I know that using a DSLR camera can be difficult (just check out my Beginner's Guide to Shooting in Manual Mode) and cameras can be heavy to carry around all day.
I have been creating travel videos for nearly 10 years and while I think everyone can learn how to shoot a video with a DSLR, it takes some practice.
But you can easily create spectacular videos using only your phone.
I often prefer to use my cell phone as it is smaller and easier to carry around.
If you are thinking to yourself, "But what about the quality?" There are a few tricks of the trade that will improve your footage.
How to make travel videos with your phone.
My Smartphone Video Equipment
Your gear doesn't have to be super bulky to get incredible shots. You must keep reminding yourself that there are so many cool things you can create with your phone.
Here's the rundown of my gear:
The Lume Cube is a light panel that turns on in the dark. It has a frosted lens, which diffuses the light to make you glow.
You can change the temperature of the light for colder or warmer tones. Plus you can adjust the brightness. Lighting may make or break your footage, so it is important!
The light has a small, credit card-sized footprint.
Get the Most Out of Your Gear
You get the most out of your gear by using it correctly.
I would recommend watching a YouTube video to explain all the features and how to use them.
I have the iPhone 12 Pro Max and it has many different settings for video. I can change the FPS (frames per second) which means I can create amazing slow-motion shots. I can change the quality of what I am shooting at, such as time-lapses and more!
What's important is to hold the phone steady with a tripod. The Mobile Creator Stand (which also acts as a selfie stick) will give you better stabilization than holding the phone by hand.
Some things to keep in mind:
Always make sure the shutter is locked.
Shoot in 4k if possible
24 frames per second is the standard for cinematic quality.
60 FPS for Slo-Mo
120 or 240 FPS for even slower Slo-Mo
Tips for Planning Out Your Shots
To understand what you are seeing in the video, it is very helpful to know that specific shots are planned.
Thinking about your end goal before you get to it will allow you to embrace it rather than research and plan when you arrive. Do not waste valuable time in the process!
If you want to make a travel video, I recommend these tips.
Create a Pinterest board ahead of time with inspiration for the location and overall vibes.
What kind of travel video are you making? Are you making a video about cultural immersion?
Figure out the shots you need to tell your story and then decide what kind of shots go in which order. Also, make sure to mix up different types of shots (landscapes, slow-motion, details) in order to make the story interesting.
Think about the shots you want to include in the movie.
Understand what lighting you will be working with.
Types of Shots
A good travel video doesn't always just be epic drone shots. I like when videos include the little details of traveling, like booking plane tickets and passports, getting there, and all the little details in between.
Here are some different types of shots to add to your storyboard: Shots can be: * Black and white photos. A black and white photo is a photo taken in black and white, which gives the photographic image a special look, as it brings out the true color of what is photographed. It also makes it easier
Establishing Shots
Wide Landscape Shots
Epic Views
Action shots are pictures of you trying a new food or drink.
The "Between" (walking to places getting there)
Tight Shots of Details
Slow Motion
Commentary/Reaction
Different Types of Videos
It is totally your choice. There is no right or wrong when it comes to video format, so you can do whatever you want.
Immersive:Some of my videos have no talking to the camera. It's entirely immersive and all about the destination. You explore it through my eyes.
You can see an example of this in the following Namibia travel video:
Limited Narration/Voice Over: This is my own way of describing a video that doesn't narrate your adventure, but only features personal reactions or VO along with landscape shots. I sometimes do this in my travel videos. I always try to get a few reactions selfie-style, but it often works out quite well. My trip was very difficult to narrate. So I film a lot so I have a lot of footage and clips to narrate my story with. Then I use VO in the editing process to help tell my story.
You can see an example of this in my Galapagos travel video below: Quote from: paul1138 on November 13, 2017, 06:31:04 pm Quote from: TPTB_need_war on November 13, 2017, 04:35:37 pm I'm absolutely fascinated by the English language and how
Vlog: I do two different types of "Vlogs": "Vlogs" with full narration (like the Mexico travel video below) and "Vlogs" with narrative explanations but mostly filled in with travel footage (like the Iceland travel video below). A vlog is a video where you narrate your The central subject of the video will guide you.
Helpful Tip:
In the past, most people thought that you should always shoot horizontally. This is still true if you are uploading to YouTube.
However, a lot of my footage is used to post on Instagram and Instagram Stories. My focus is not as much about YouTube.
Think about where you will upload your video and keep that in mind with filming. My suggestion would be to film once tall and once wide for a variety of options if you are using your videos on both Stories and YouTube.
Video Settings
For Slo-Mo
Depending on what you will be filming, you can choose between 60 fps, 120 fps or 240 fps.
This goes back to storyboarding and knowing what shots you want to take. The higher the frame rate (100 120) – the slower your video will be.
Composition Grid
Turn on this in your camera settings. This will help you to create balance in your photos and to use the Rule of Thirds.
Formats Most Compatible
When shooting video, I purposely go with the largest file size and click "Format Most Compatible". Once that's done, I turn off this feature so that the space on my SD card isn't taken up from videos of my dog.
Time-Lapse
You can shoot time-lapse photos on your phone. Set up your phone on the Mobile CreatorStand and let it roll for a while.
Helpful Tip:
On an iPhone you can click "Preserve Settings" so you don't have to do it every time.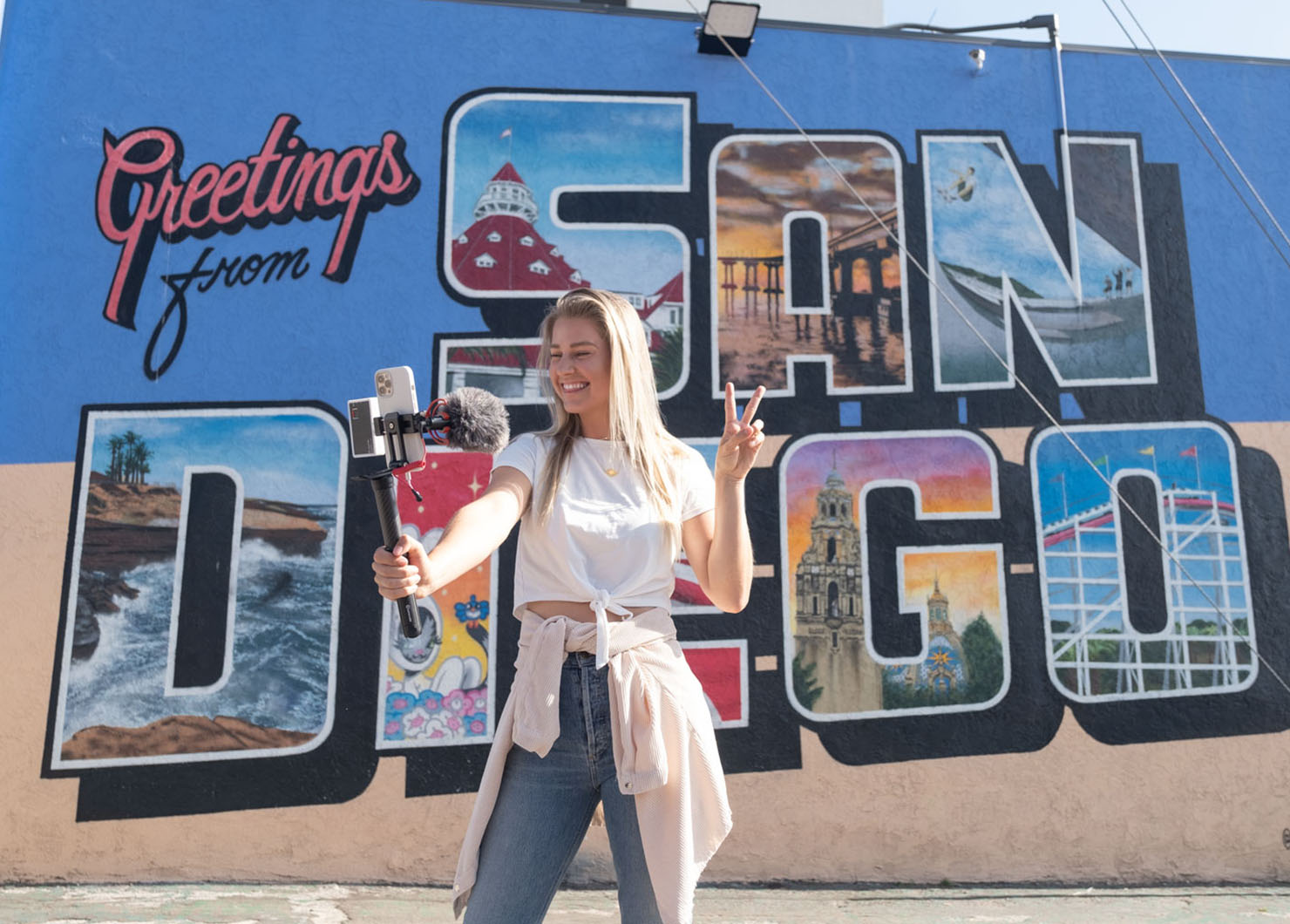 Storage for Video Footage
Be sure to store your phone safely. Knock on wood that you don't lose your phone while traveling. But it happens, so be sure to keep all the footage you have taken.
Option A: Smart Storage with Google One
Google One has an online storage platform for $10 per month, where you can store 2 Terabytes. I like that it is "smart," so that you can search for files automatically or by date.
If you don't want to pay for the subscription after your trip, make sure to copy the footage to an external hard drive. But in my opinion Google 1 is a great storage solution for on-the-go.
Option B: Airdrop, Computer, Hard Drive
It's a bit more time-consuming, especially when you are traveling. But you can email the footage to your computer at the end of the day and put it on a hard drive as a backup.
Where to Get Royalty-Free Music
If you have a song in mind, it will help you come up with ideas for your video. Even if you do not know what music to use, that will be decided in post-production.
I've never had my music flagged with Instagram, but if it's commercial music, don't use it.
I would suggest that you do not use free music because it will get taken down. If there is any part of your video that has a beat, make sure to use royalty-free music. If you need help finding royalty-free music, I can provide a list for you
Here's a few places to find royalty-free music:
Premium Beat is $12.99 per track for five tracks each month.
Epidemic Sound is a subscription service of $15/ month but it has a huge selection!
Find royalty-free music on iTunes and then import it into your editing software.
Editing Your Video
Editing your footage and putting it all together is when the magic happens. It's also a difficult part, depending on what software you use.
For Beginners
Quik:You can use the GoPro app called Quik to do all the editing. This allows you to select your scenes and music, and it will automatically put them together into a perfectly coordinated video.
This works pretty well. The downside is that it doesn't do 4k. If you're just starting out, check out Quik!
For Medium to Intermediate
Adobe Premiere Rush: If you have a Creative Cloud Membership, you will have access to this. Premiere Rush offers basic editing features and functionalities for video editing. It's great for those who are familiar with how they want to edit but doesn't have as many advanced capabilities as Premiere Pro CC. The Pro version has bells and whistles.
Luma Fusion:This is for iOS only and unlike Adobe, it is not a subscription but rather a one-time fee of $30. I haven't personally tried Luma Fusion, but the reviews are good!
For Advanced
Adobe Premiere (Desktop):This is what I use and it's the industry standard. There are a lot of bells and whistles, but there's definitely a learning curve. You can do so many cool things with it.
I would suggest watching as many YouTube tutorials as you can to learn more about all of Adobe Premiere's functions.
Skillshare has some great courses too! If you are interested in color grading and video editing, check out Skillshare.
Helpful Tip:
Even if you shoot on your phone, you can still go back and edit on your computer. I prefer this method because it is easier to navigate the editing software and see all the footage I'm working with.
Working From Home
What is my camera like, when I'm not traveling?
When I'm working from home, there are several things I like to use to optimize my videos and content. These pieces of equipment give flattering lighting.
Work From Home Gear
Work from home and broadcast live online.
A camera mount with a light stand adapter.
Suction Cup Computer Mount
Panel GO
T BA Takeaways
Plan ahead and storyboard
Figure out your gear beforehand
Understand which setting is best for what.
Master your lighting
Stabilize with a tripod/selfie stick
Get a mix of details and landscape
Pick out royalty-free music
And there you have it, folks! That's how I create epic travel videos while using my phone!
Do you have any tips or tricks you learned along the way? I would love to hear them in the comments below!
This post was sponsored by Lume Cube. As always all thoughts and opinions expressed in this post are entirely my own.